No More Goopy Impressions with the iTero® Scanner
Every patient experience matters to us here at Springbank Dental. We continue to invest in dental technologies to make each of your visits as pleasant as possible.
Straightening teeth is a common procedure that, before, was limited to the use of uncomfortable impressions. The powder and goopy material were messy and it was hard to achieve an accurate model for oral devices.
We're happy that patients now have access to intraoral scanners, such as the iTero®. With the help of this digital scanning system, we can capture high-resolution images of your mouth with a lot less time and effort.
What is the iTero® Element Intraoral Scanner?
The iTero® Element Intraoral Scanner helps improve the quality of dental care that patients receive. It's a digital imaging device that scans the mouth using a handheld wand. It allows you to see the current condition of your mouth and how it will look after receiving orthodontic treatment.
How Does it Work?
The iTero® scanner makes taking impressions a lot easier and convenient for patients and dentists alike.
Your dentist uses the iTero® wand to scan all areas of your mouth. The images are then simultaneously captured on the computer screen. These detailed photos make up the 3D model of your mouth, which can be adjusted in real-time.
No need for several retakes as was sometimes the case with the traditional method. Patients with a high gag reflex appreciate this. Your dentist can forward your impressions to the dental lab and to other parties that require them.
Your appointment time will be shorter, as will the time needed to produce your dental restorations.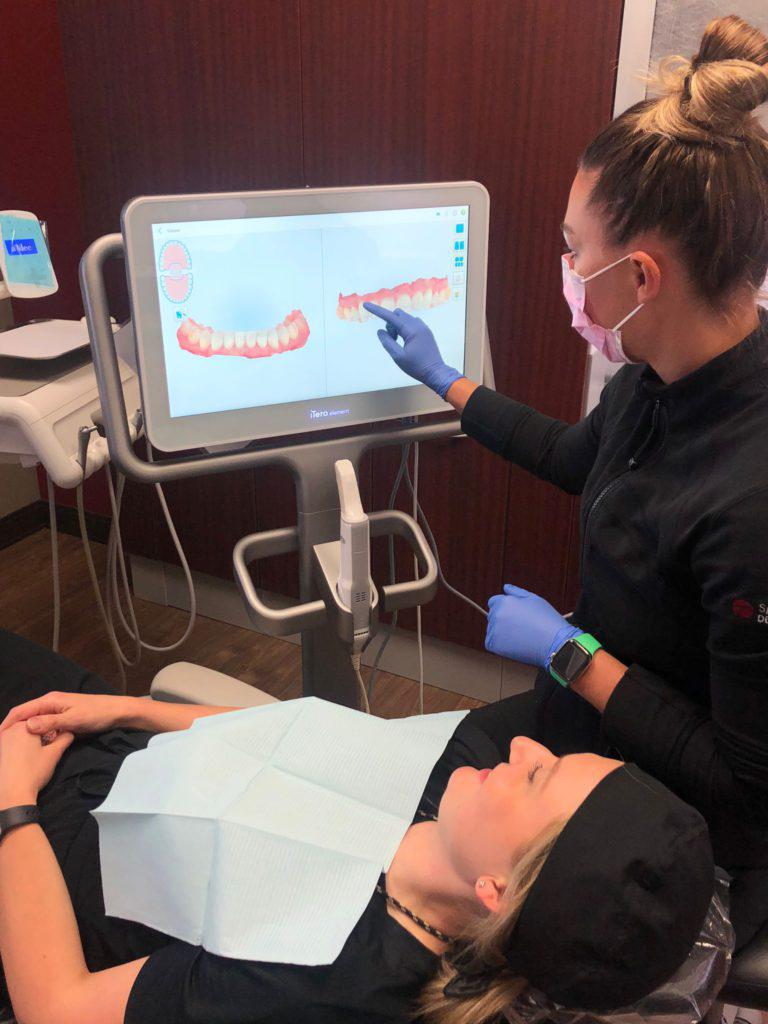 The Advantages of the iTero® Scanner
Accurate. With the traditional method of taking impressions, you have to stay put and open your mouth wide for a long period. This can cause discomfort which, in turn, can affect the accuracy of the mold. Chances are you'll have to redo it or your dental appliance may fit poorly. The use of the iTero® scanner resolves these issues.
Comfortable. Patients with dental anxieties or strong gag reflexes may delay getting dental treatments due to the goopy impressions. With digital scanning systems, you don't have to be in the dental chair for too long. You can speak with your dentist comfortably and ask them questions about your mouth. The more you understand the condition of your oral health, the easier it is to decide which treatments to proceed with.
Interactive. The iTero® is designed to be interactive. Your dentist can show you what they see in your mouth and explain their findings more easily. They can also address your inquiries regarding treatment recommendations better. Since results can be simulated, you can view how your mouth will improve even before treatment starts.
Fast. Since the iTero® scanner eliminates the need for time-consuming retakes and is also less prone to errors, producing your appliance becomes easier and a lot faster. Your impressions can also be forwarded to involved practices within a few clicks.
Experience the iTero® Digital Scanning System in SW Calgary
If you would like to know more about the iTero® intraoral scanner or are interested in getting orthodontic treatments in SW Calgary, please get in touch with us at (403) 277-7464.
We do our best to get you in as soon as possible and we're also more than happy to show you the dental technologies we're using in our office. The iTero® scanner is even more amazing in person!
Call our dental team today. We look forward to meeting you.